At Circle of Life Care, we are dedicated to providing exceptional dementia homecare services that prioritize the well-being and comfort of your loved ones. Our commitment to excellence is not just reflected in our words but is best conveyed through the heartfelt experiences and testimonials of our clients and their families.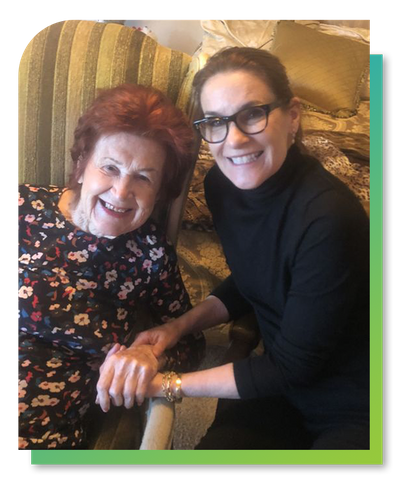 Why Choose Circle of Life Care for Dementia Homecare?
Our team understands the unique challenges and demands of dementia homecare, and we take immense pride in our ability to deliver compassionate and personalized support to those in need.
As you consider entrusting us with the care of your loved one, we invite you to explore the genuine testimonials from individuals and families who have experienced the Circle of Life Care difference.

Charmaine Villard-Gillota
"Before my mom came to Circle of Life, I was the kind of daughter that managed every aspect of my mother's health care and supervised her home care aides to the extent that I may as well have been performing the rudiments of care myself (a common complaint amongst those I employed and these were competent women). In short, I have to say a bit of a control freak. I am not apologizing for that as my mother stayed reasonably healthy for my involvement.
When Mom came to Circle of Life Care, I have to admit that it took me a bit to catch onto their system of care...and I learned to let go. I began to see the wisdom of Sue's approach- the employment of home care staff that truly love and respect the elder and infirm who have the ability to provide an atmosphere of safety and at the same time, an environment where the residents could express themselves and maintain dignity of self. Circle of Life Care does not engage in the dreadful helicoptering unless necessary. The home at Loreto was lovely and something delicious was always brewing on the stove. I always felt welcome to stay and watch tv, take walks, and honestly sometimes felt it a respite from my own life. My mother was far happier there than she was in her prior home.
I was able to step back and see my mother more as who she was rather than a responsibility, which for us was a tremendous development. Sue also allowed me to add Mom's important personal touches and I believe this, along with all of the above, contributed to her life span being well past that projected by hospice. She was able to pass in the arms of her most loving caregiver in the most peaceful way. I, and my family, are eternally grateful for the gift called Circle of Life Care."

Sharon Wilhelm
"I came to work for Circle of Life when one of my clients transferred to this company. It has been a pleasure and joy for over 2 years now. The staff is available, professional, and caring. I am always paid on time and the training always keeps me current. Love this company."

Pat McGlon
"I have not had one problem with this company nor do I ex's pect to have any! I love Michelle as a case manager and when I call i get someone that is courteous very helpful! I would recommend this company to anyone that needs help with their loved ones! Come on aboard you won't be disappointed!"

TL Joyce
"The house was beautiful and very well maintained. The care was exceptional. My Mom had been turned down due to aggression for other facilities and she was sleeping 18-20 hours a day. Within a month of going there she was happy and alert again. The caregivers were fantastic and it is clear that they truly care about their clients. Frequent pictures and updates gave us a feeling of security especially being so far away. The rooms are nice and large. This is a step up facility - lots of one on one time with the caretakers. They will make their favorite foods and nothing is cookie cutter. My Mom was treated with compassion and dignity until the moment she passed away. The team even made that the best that they could in a sad situation. If anything ever happens to me, I want to go here."

CK
"My mother has been in Circle of Life Alzheimer's Homes for two years now. She had been in a mental institution, then we got her out and I put her in assisted living. However, things weren't working out and it looked like we were going to have to put her back in the mental institution. Until we found Circle of Life Alzheimer's Homes, and it just works for her.
Their people are all wonderful. My mother never had a problem with them. She has a small private room and it is like she is at home. Cleanliness is amazing. It is an amazing home. I have eaten there a few times and the food is better than a nursing home because they have home-cooked meals. My mother never complains about the food which is a rarity itself. They also do things with them but my mother is not one to participate. She is happy doing her own thing and they allow her to do what she needs to do. She has become very happy. It is a good price because it is full-time care, it is very small and my mother is happy. The value just on my mother having happiness in the last part of her life is a 5."
Start Your Journey With Circle of Life Today
At Circle of Life Care, we believe that the true measure of our success lies in the satisfaction and well-being of our clients. These testimonials reflect our unwavering commitment to enhancing the lives of those we serve. We are not just caregivers; we are companions on the journey, dedicated to providing the highest quality dementia home care.
As you read through the heartfelt stories of those who have benefited from our services, we hope you gain insight into the level of care and dedication that defines Circle of Life Care. Contact Circle of Life Care today to learn more about our dementia homecare services and how we can provide personalized support for your family.